Own a Business




that offers you a




Flexible Lifestyle
Get busy living, not busy making a living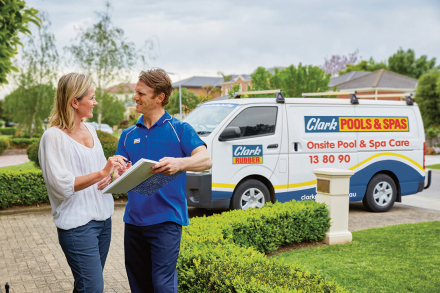 Mobile Van
Decentralised Business Model
Operate on the Move
Service Local Pools

Exclusive Territory
Exclusive Operating territory
Guaranteed 1000+ Pools
Expansion Potential

Low-Risk Investment
Small Initial Investment
High Profitability
High Growth Potential

Work Flexibility
Be Your own Boss
Set Your own Hours
Build Business Relationships
Clark Pools & Spas Mobile Service Van
Our Clark Pools & Spas mobile service vans are the perfect affordable business opportunity for those looking to change their life, and fulfil the dream of owning their very first business. We set you up in a Clark Pools & Spas mobile service van, consisting of state of the art technology, software and equipment, in addition to a strong foundation of training, education and support to start you on your way.


Is Investing in a Franchise Risky?
Be your own boss

Get a return on your investment

Join a brand with a strong history of success

Get the support you need to thrive
Take the first step towards 'being' your own boss

A Trusted Business for the Local Community
Operate a successful business just 10 minutes from your home and build relationships in the local community.
Award-Winning Support and Training
Benefit from our award-winning ongoing training and support and operate with confidence that you are providing the pinnacle of service.

Local Community Marketing Strategies and Initiatives
Gain access to out national support office and market your business effectively backed by a team of experts.

Be a part of an Iconic Australian Brand
Clark Rubber has operated successfully in Australia for over 75 years. Receive the backing of a household name.
Pricing Information
$50,000 + Van + Working Capital
What Happens Next?
1. You Make an Enquiry
We'd love to hear from you. Complete the enquiry form below and we'll be in touch to provide more information and help answer your initial questions.
2. Continue to Learn More About Us
If you like what you've heard we will start working together with you to better understand the opportunity you are considering. We will help build your knowledge with site/store specific information, planning and projection tools and support throughout the process.
3. Submit your Application
We will support you to complete our application process right through to your approval as a Clark Rubber Franchisee; where we'll provide you with a comprehensive training program, documentation, tools, software, on-going support, and everything you need to run a successful franchise.
Frequently Asked Questions
What does the recruitment process look like?
The process consists of an application being completed, followed by both parties learning more about one another. Due diligence is conducted, with extra support being provided by your Accountant and Solicitor.
What do I receive for my initial investment?
You will receive complete assistance and support with your business and van set up including 2 weeks of comprehensive training with SPASA. This includes on-site training, ongoing support and business development by our qualified field staff.
Are there any ongoing fees?
Every franchisee pays monthly royalty fees and contributes to co-operative funds such as the marketing fund. All on-off and ongoing fees will be disclosed to you in detail.
What onboarding support is given?
You will meet with your local Regional Sales Manager, they will assist you personally with the onboarding process and launching your business.
What ongoing support do you provide?
During your application process you will need to create a business plan with our guidance, you are then supported by training as well as one on one support to launch and build your business.
Can I sell my business at any time?
Clark Rubber will guide you in how to prepare your business for sale and assist you with marketing and selling your business.
Speak to one of our Experts
Sydney Franchising Expo 2022
Q & A with Jason Charles
Van tour with Jason Charles