An Iconic Australian Brand
Clark Rubber is a successful Australian retailer with a history dating back to 1946. With 60 stores nationally, all specialising in pools, foam and rubber, we occupy a very unique position in Australian retail. Our broad product range appeals to a very wide cross section of Australians including families, tradies, hobbyists and commercial customers, just to name a few.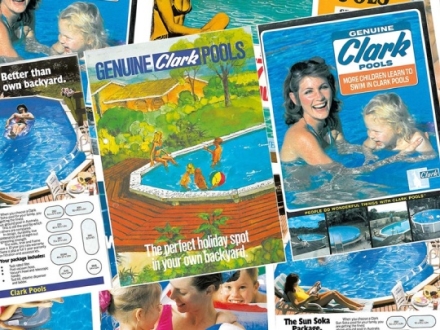 It Began in 46
The Clark Rubber story began in 1946 when two men, Charlesworth and Clark formed a partnership to establish Clark Matting and Rubber.
Listed on the Australian Stock Exchange in 1951
The business grew quickly, and in 1951 was listed on the Australian Stock Exchange. In 1961, the name was changed to Clark Rubber Stores.
Bought by the Adsteam Group in 1982
In 1982, Clark Rubber was bought by the Adsteam Group, which continued to operate the business until 1994. At this point, the Clark Rubber name and logo were sold to Vita Pacific, a wholly-owned subsidiary of Pacific Dunlop, and the network of stores was closed down.
Chris Malcolm
Chris Malcolm licenses the Clark Rubber brand.
1998
In 1998 we opened our 50th store!
The Clark Brand
Clark Rubber brand formally acquired in 2000. In 2000, Chris Malcolm purchased full rights to the Clark Rubber brand from Pacific Dunlop.
2003 Australian Franchisor of the Year
The store network continued to grow, and in 2003 Clark Rubber was recognised as the Franchise Council of Australia's Franchisor of the Year in the 'Entry Capital Over $200,000' category. In the same year, Chris Malcolm was inducted into the Franchise Council of Australia's 'Hall of Fame. Three years later, Clark Rubber was awarded the Franchise Council of Australia's highest honour, Franchisor of the Year.
2020 - New Ownership and a New Phase for the Brand
CRG Operations acquires the Clark Rubber brand. Headed by Graeme Goldman and Edward Plowman, the new ownership has ambitious plans to steer this iconic 75 year old brand through its next phase. With an expanded store network, greatly improved omnichannel strategy, and improved product/service offerings particularly within the Pool & Spa category, Clark Rubber will be further cemented as the one-stop destination for Everything Pools Foam & Rubber.