Success Stories from our Network of Highly Dedicated Franchisees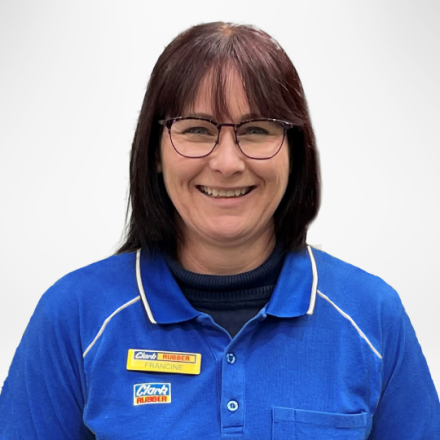 Francine Hammett
Franchisee – Clark Rubber Toowoomba
We came to Clark Rubber after 20 years in the construction industry and we were looking for a career change. The opportunity to buy a Clark Rubber Franchise presented itself, and after a thorough and in-depth process we decide to buy into the franchise. We knew Clark Rubber had a long history as an iconic Australian brand, and when we reopened an existing store with its own 20 years of local trading history, we benefited from an already established loyal customer base.
We were pleasantly surprised by the willingness of other franchisees to share their knowledge, and assist wherever they could. Having this support makes it a pleasure to work with likeminded businesses, and has allowed us to grow our knowledge as franchisees.
We believe the Clark Rubber range is unique and extensive but also great value, and the Clark Rubber franchise is very customer focused problem solving, which is our strength.
The Clark Rubber Support Office provided us with guidance and support when we first setup the store- from stock ordering, fixtures and fittings, to marketing and were on hand to assist when we opened. That support continues now as we look for opportunities to grow our business in our local community. Winning 'Best Practice Franchise' Award after only two years in the business was a humbling experience, but also recognition for the hard work we put into our store to be successful.
Being a Clark Rubber franchise means to be part of something that is bigger than you. The knowledge you gain, experiences shared and friendships that grow along the way. Not to mention the amazing support teams we have in our stores. The rapport we have with our team means they have become like our family.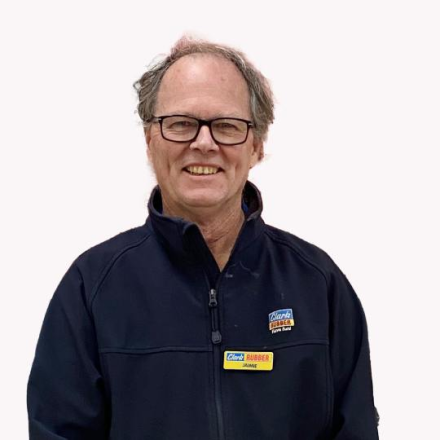 Jamie Fountain
Franchisee - Clark Rubber Haberfield
I originally became involved with Clark Rubber in a very indirect way. My wife knew one of the franchisees in Carringvale, who was selling their above ground pool display. I went to check out the Pool, but after looking around the store I decided this is the type of business I wanted to purchase. I didn't buy the pool, but 18 months later I did buy a Clark Rubber franchise, after searching for and finding the perfect site.
I came from liquor retailing, so naturally I looked at buying a liquor store, but it required a very large financial outlay and is a very crowded market with heavy discounting. The Clark Rubber franchise was much more affordable option and suited me, as I like working with my hands. I have worked hard, and I feel very comfortable because it has given me a great work life balance.
There is a great sense of community amongst the franchisees, we have state meetings and catch up at conference every year. It provides a great networking opportunity to discuss what's working in other stores. When we first joined, we relied heavily on the expertise and information from Clark Rubber, to give us the knowledge and confidence to run our own business. If someone came into our store today and asked me about buying a Clark Rubber franchise, I would tell them if they are willing to work hard, the support and knowledge provided will make them a successful franchisee.
Clark Rubber is perfect for anyone who is a little bit handy, has a good practical nature, and willing to help solve customers' problems. The Clark Rubber system has helped me grow, has allowed me to meet some amazing franchisees and it's wonderful to be part of such a recognised Australian Brand.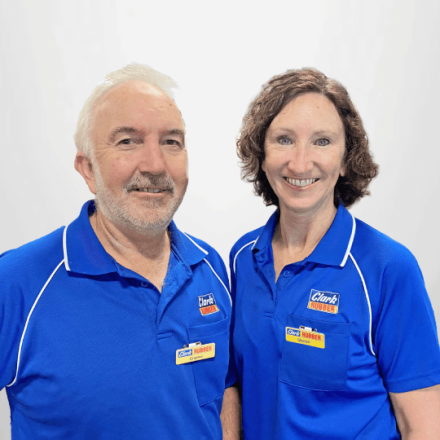 Graeme & Sharon Reid
Franchisees - Clark Rubber Geelong
We came to Clark Rubber after owning businesses in the past, and we knew there was great brand recognition for Clark Rubber, so when one came available we saw it as a very exciting prospect. The systems and processes really help an entrepreneurial mindset, where you can use everything from the support office to help start and grow your own business, and also think outside the box.
Since joining Clark Rubber, our expectations have been met, and our goals achieved. We have worked hard and gone outside our comfort zone, but the end-game for us is to be able to retire and have a great lifestyle with our kids, and that is achievable.
Amongst the other franchisees and the support team, there is a great sense of team work. Everyone is on their own journey, but there is that support from other franchisees that makes owning a Clark Rubber really rewarding. It helps to be a good contributor to all the teams you are part of. The team of franchisees, the franchisors and also our own store team. Our family works in the business, so Clark Rubber is a big part of our lives.
We have a ten year plan which we are still working towards, and we know what we have brought to the business will make this a reality. We also value what the support side of the business has given us. The administrative systems and business reports provided, and access to the support office team for advice and help was fundamental to us choosing Clark Rubber.
Our lives are busy working in the business together, but this also gives us the flexibly to just make it work for our family. Everyone in our store is valued as part of the team, and we have found that building a great team, while it may take time, has been integral to our success. We enjoy working hard and the rewards that come from that. It's been a very positive experience for us both since joining Clark Rubber.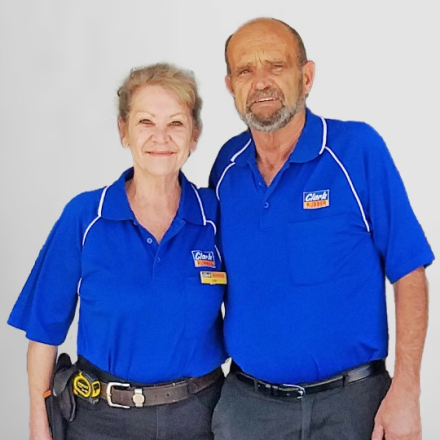 Derek & Julie Geel
Franchisees - Clark Rubber Kawana
When we moved from South Africa in 2013 we had already researched the market in Australia and saw how well the Clark Rubber brand was established, and lucky for us the Kawana store was available. After meeting management and the support office staff, we were very impressed and the whole process was very transparent and easy to navigate. Compared to other franchises in the market, the guidance and systems already established due to the age of the brand, made the choice very easy to choose Clark Rubber.
We would highly recommend Clark Rubber to anyone, because we have always felt backed up and supported with a complete commitment to growing our business. It's not just words, but actions that makes the difference with Clark Rubber. Other Franchisees have also been incredibly helpful. We first worked in another store for experience, and franchisees in the group really went out of their way to make us feel at home and comfortable with our investment. We even did our training with another store. In fact, the training provided really means anyone can run a Clark Rubber Franchise if you have the commitment and drive to be a successful business owner.
The strategy to continue to grow such an iconic brand, makes us feel very confident of our ongoing success, and we are very happy we decide to buy a Clark Rubber franchise.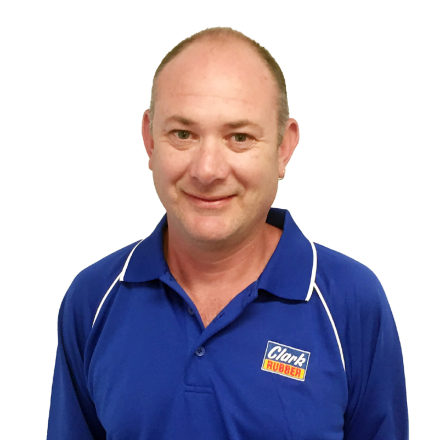 Deane Toy
Franchisee - Clark Rubber Bradbury
From the very beginning, I have been incredibly supported by the Clark Pools & Spas family. The support I have received has been like having a mentor who challenges and helps me work through any problem that I have. It has been exciting to learn this new trade in Pool Servicing because I have learnt many new skills that I find very interesting. Being a Franchisee is challenging but very rewarding and what I enjoy most is the sense of freedom by being my own boss and having the Clark Pools & Spas brand behind me.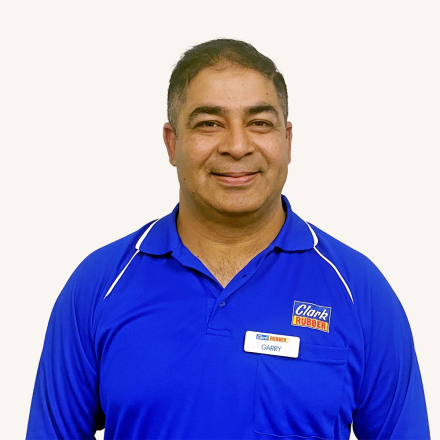 Garry Gulyani
Franchisee – Clark Rubber Modbury
I was initially worried about joining a franchise, but once I met the support team, and understood how much time the team invest in helping every store, the decision was very simple. I was accustomed to long hospitality hours, and wasn't seeing as much of my family as I would have liked. Joining Clark Rubber and working in retail, has allowed me to control how many hours I work, and has provided some work life balance, which is great for my family.
Build an iconic brand in a local community
Speak to one of our experts!