Grow your Franchise Portfolio by Investing in an Iconic Australian Brand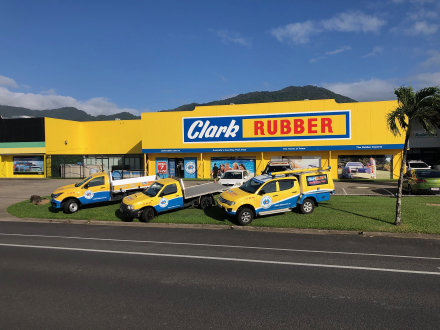 Proven results
We have the people, processes and the product to achieve results.

Be an industry leader
Join the No.1 leisure brand in Australia.

Benefit from scale
Leverage the cost benefits of multi site ownership.

Create a legacy
Build a portfolio of successful retail stores.
Does Building a Network of Franchise Stores Seem Impossible?
Do I have the team to scale?

Can I finance my growth?

Is it worth the risk?

What support will I receive from the franchisor?
Growth Opportunities for Successful Franchisees
Here's What You Get From Us.

Strategic Site Selection
We partner with you to identify the best locations.

Personalised Marketing Strategies and Initiatives
Maximise awareness across your local region through multi site management.

Be part of an Iconic Australian brand
Join Australia's No. 1 leisure brand.

Leadership Opportunities
Be part of the Clark Rubber franchise leadership group.
Meet Some of our Multi-Site Franchise Owners
Graeme & Sharon Reid
Franchisees - Clark Rubber Geelong
We came to Clark Rubber after owning business's in the past, and we knew there was great brand recognition for Clark Rubber, so when one came available we saw it as a very exciting prospect. The systems and processes really help an entrepreneurial mindset, where you can use everything from the support office to help start and grow your own business, and also think outside the box.
Since joining Clark Rubber, our expectations have been met, and our goals achieved. We have worked hard and gone outside our comfort zone, but the end-game for us is to be able to retire and have a great lifestyle with our kids, and that is achievable.
Amongst the other franchisees and the support team, there is a great sense team work. Everyone is on their own journey, but there is that support from other franchisees that makes owning a Clark Rubber really rewarding. It helps to be a good contributor to all the teams you are part of. The team of franchisees, the franchisors and also our own store team. Our family works in the business, so Clark Rubber is a big part of our lives.
We have a ten year plan which we are still working towards, and we know what we have brought to the business will make this a reality. We also value what the support side of the business has given us. The administrative systems and business reports provided, and access to the support office team for advice and help was fundamental to us choosing Clark Rubber.
Our lives are busy working in the business together, but this also gives us the flexibly to just make it work for our family. Everyone in our store is valued as part of the team, and we have found that building a great team, while it may take time, has been integral to our success. We enjoy working hard and the rewards that come from that. It's been a very positive experience for us both since joining Clark Rubber.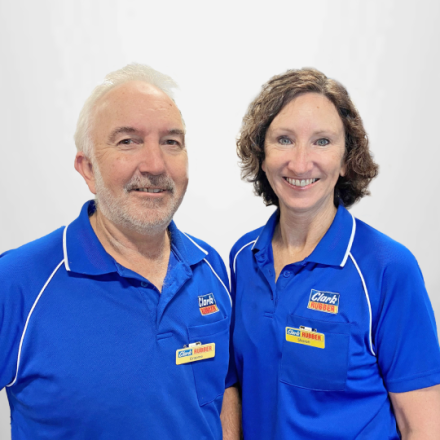 What Happens Next?
1. You Make an Enquiry
We'd love to hear from you. Complete the enquiry from below and we'll be in touch to provide more information and help answer your initial questions.
2. Continue to Learn More About Us
If you like what you've heard we will start working together with you to better understand the opportunity you are considering. We will help build your knowledge with site/store specific information, planning and projection tools and support through the process.
3. Submit your Application
We will support you to complete our application process right through to your approval as a Clark Rubber Franchisee; where we'll provide you with a comprehensive training program, documentation, tools, software, on-going support, and everything you need to run a successful franchise.
Frequently Asked Questions
What does the recruitment process look like?
The process consists of an application being completed, followed by both parties learning more about one another. Due diligence is conducted, with extra support being provided by your Accountant and Solicitor.
What do I receive for my initial investment?
You will receive complete assistance and support with your business and van set up including 2 weeks of comprehensive training with SPASA. This includes on-site training, ongoing support and business development by our qualified field staff.
Are there any ongoing fees?
Every franchisee pays monthly royalty fees and contributes to co-operative funds such as the marketing fund. All on-off and ongoing fees will be disclosed to you in detail.
What onboarding support is given?
You will meet with your local Regional Sales Manager, they will assist you personally with the onboarding process and launching your business.
What ongoing support do you provide?
During your application process you will need to create a business plan with our guidance, you are then supported by training as well as one on one support to launch and build your business.
Can I sell my business at any time?
Clark Rubber will guide you in how to prepare your business for sale and assist you with marketing and selling your business.
Speak to one of our Experts